Trust Brown County for quality gate installation and repair services
Our team of experts provides unbeatable gate installation and maintenance services – committed to dependability, durability, and aesthetic quality. Our team utilizes only the best materials in Green Bay, WI, to ensure your brand-new or repaired entrance looks fantastic while standing up against unpredictable weather conditions.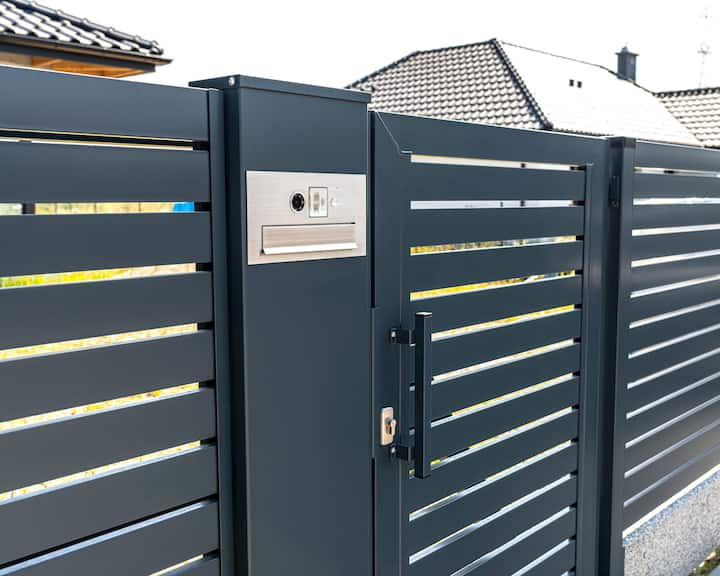 Uncovering the many benefits of residential gates
If you're a homeowner in Brown County, our professionals can help you get the residential gates you need for your home. Whether you're looking for drive-away, estate, or security gates, our team has the perfect option to meet your needs. Installing residential gates provides numerous benefits that add value and safety to any property, such as:
Prevents vehicles from entering restricted areas with anti-crash gates
Durable materials can withstand crashes and collisions
Easy to open and close manually
Ideal for residential properties
No matter which type of residential gate you choose, our experts can help you ensure it's installed correctly and provide protection that meets your safety needs.
Call our network today to find the perfect residential gates for your property!
Get in Touch With Us
We want to hear from you about your gate installation and repair needs. No gate job in Green Bay is too big or too small for our experienced team!
Four popular types of gates for homes
When choosing the right gate for your home, our experts will help you decide which type is best for your needs. Here are four common types of gates and their benefits:
Swing gates: Swing gates are one of the most common types used in residential homes. They come in various designs and styles, allowing homeowners to choose a look that reflects their style. These gates can also be custom designed to fit any size opening or fence line. The main benefit of swing gates is that they're easy to install and open/close with minimal effort.
Slide gates: For those living on deeper property lines, slide gates offer a great solution where space is limited. Instead of swinging open, slide gates "slide" along the fence line and can be opened/closed with a remote control or keypad. The main benefit of slide gates is that they provide efficient security without taking up too much space.
Folding gates: Folding gates are designed to fold in sections as it opens and close like an accordion. These gates are usually made from either vinyl or metal materials and are great for homes with uneven terrain or long driveways. In addition, folding gates offer convenience in tight spaces and the ability to customize design elements such as color, texture, and more.
Overhead track gates: Overhead track gates are the perfect choice for homeowners looking for maximum security while allowing easy access. These gates are usually made from steel, aluminum, or wood and open by lifting on a track-and-wheel system. The main benefit of overhead track gates is that they provide enhanced security while being easy to operate.
No matter which types you decide for your home, our experts will help you find the perfect gate solution for your needs. Contact Fencing Experts today to learn more about the different options available!
Five crucial considerations before installing a gate
When installing a gate, there's more to consider than just the type of material you want for your fence. Our experts understand that decision-making process and have outlined five crucial considerations before installing a gate:
Location
Where do you need or want the gate? When determining the best placement, look into any local ordinances or requirements related to fencing in your area. Considering any existing landscaping and obstructions, such as utility lines or gas meters nearby, it would be best to think about how easy (or hard) it will be to install a gate in that spot.
Should it open inward or outward?
Our fence installation pros recommend installing a gate at least 4 feet wide to allow the passage of equipment, bicycles, and other items.
Security
Choose materials strong enough to withstand typical wear-and-tear and not easily broken into — especially if you want extra privacy or security. For example, they offer durable steel gates with locks and high-quality rollers for smooth operation.
Budget
They can help you determine the best option for your budget and provide a realistic completion timeline. Getting professional help. Professional help will ultimately save you time, money, and frustration in the long run. For more information about our expert installation services, contact them today!
Ready, set, install! Prepping for gate installation
If you're considering installing a gate for your home or business, our team can help! However, before you start the installation process, taking steps to prepare your property is essential.
First and foremost, ensure enough clearance around the area where you plan to install your gate. Clear away any rocks and debris in the way and trim any vegetation that may interfere with the installation. Once cleared, measure the area so the local contractors can ensure they have the materials needed for your specific project size.
Once the fencing professionals arrive on site, staying out of their way for safety reasons and ensuring everything goes as planned is essential. Brown County experts will handle any permits or paperwork needed for the installation. Still, checking with your local zoning board beforehand is a good idea to avoid potential delays.
By taking these steps before the contractors arrive, the process can go smoothly, and you'll enjoy your new gate in no time! So get started today by contacting and ensuring your property is ready for installation.
The benefits of different types of commercial gates
Our contractors have years of experience installing and repairing commercial gates. From anti-crash gates to barrier arm gates to cantilever slide gates, our fence experts can help you determine the best type of gate for your needs and install it quickly and efficiently.
Prevents unauthorized access
Durable and reliable
Easy to operate
Excellent security
No matter what type of commercial gate you need to install or repair, it has you covered!
Get quality gate installation with us!
Discover the perfect gate for your property with our network. With decades of expertise and a committed customer service team, you can count on us to ensure every detail is taken care of – from start to finish! Whether an ornamental iron fence or a classic wooden picket look, they assure quality artistry that reflects your style. Contact our network today and prepare for personalized installation services tailored precisely as you envision them!